The 100 best cities in the world to live in as a dog owner
Who will await you at the front door when you come home from work at night? Who will quietly sit next to you when feeling lonely? Who will follow your orders without any complaints? Who will greet you with a waggling tail, a friendly bark and a very wet kiss? Yes, DOGS. It is no surprise that they are called a man's best friend, because who is not in love with these loyal creatures that live among us on this earth? The furry friends torment 48% of households in the US at the moment [1] and that is no surprise. Besides the unconditional love they give and the dog-lover community you will be part of now, dogs also appear to reduce stress, keep you fit and active, and even improve your heart health. [2] But not only Americans love their dogs, in other countries around the world dogs have special rights, are protected by laws, and receive great appreciation.
In Oklahoma, people who make ugly faces at dogs may be fined or jailed [3]; in Turin, you risk a heavy fine if you walk your dog less than three times a day; in Switzerland, you must pass a test and take a practical training class in order to have a dog; and in Virginia, stealing a dog may be punished by spending 10 years in jail. This is great news for our canine companions, and the people that own them [4].
But just as people are always asked the question: "are you a cat or a dog person?", it appears that not all countries adore this loyal creature as much as Americans do. In China, they have decided to limit the number of dogs in the country with the one-dog policy and in Saudi-Arabia it is illegal to walk a dog in public [3].
As a dog-owner, it would be wise to think twice about which country to move to with your dog as you would obviously would like your best friend to grow up in the best possible environment. We want you to make the right decision for you and your other half, so the team at ScanMovers did research into the The 100 Best Cities to Live in as a Dog Owner (T100BCLDO) so that you will be well-informed about which city is most suited for you and your four-legged family member.
We looked into some dog-friendliness-indicators such as number of pet dogs, dog parks, dog-friendly restaurants, doggie daycares, leash obligations, rainy vs sunny days, and veterinarians. We explain our methodology more elaborately below. It's getting cold again in the Netherlands so snuggle up with your furry friend by the fire place and enjoy reading the top 10!
HERE ARE OUR TOP 10 WINNERS:
HERE IS OUR FULL LIST:
COMMENTS ON OUR TOP 10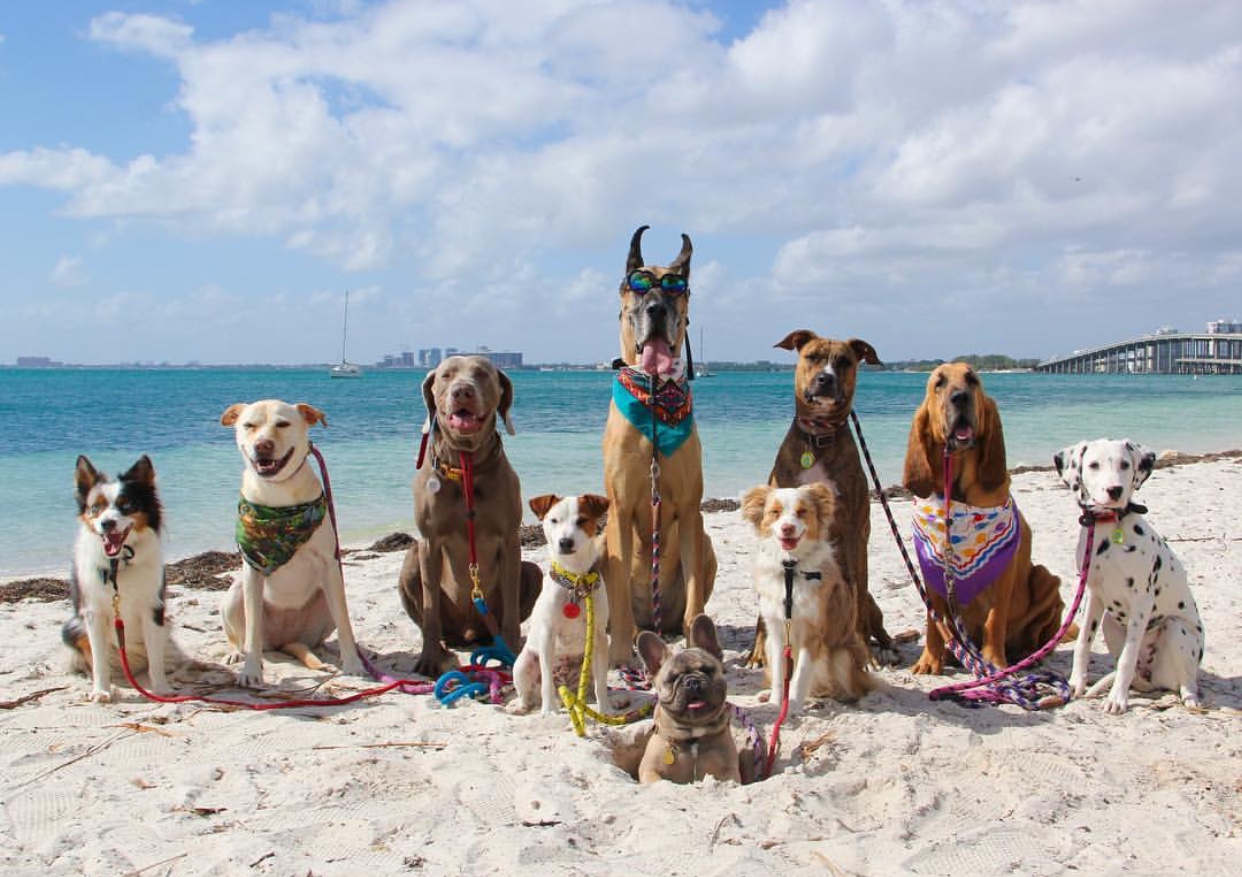 Photo source: the Barkhaus
A dog is a man's best friend, but Miami is a dog's best city. This city in the Southeastern part of the United States is the number 1 city to live in as a proud parent of your furry child. Miami won this race by having an extraordinarily high number of dog-friendly restaurants, a lot of doggie daycares and many veterinarians situated throughout the city. Although their number of dog parks, where dogs are allowed off-leash, is very low, they still managed to secure the first place! Congratulations! Miami has some useful and very dog-friendly websites and organizations. If you're looking for a place to stay overnight for your furry friend, you can use doghotels.com. If you would like to adopt a dog, Paws 4 You is an organization that rescues dog and takes care of them until they find a new home. Miami, the place to bark.
The latest dog-news from Miami: Miamians are all about dressing up. Not only their selves but also their other dog-halfs. Canine boutiques fill up the shopping streets in Midtown Miami where you can find anything for your best friend: from doggie raincoats to paw-ties. It's a true dogwalk on Miami's streets! [5]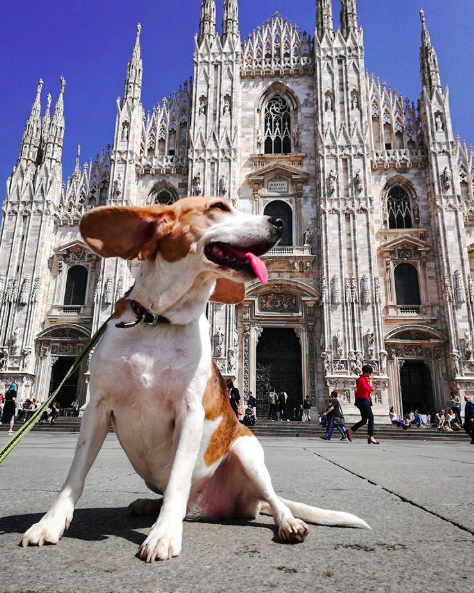 Photo source: Priscilla beagle
La vita è bella in Milano, and especially for dogs! This second large city in Italy became number 2 in our search to the most dog-friendly city in the world. Walk along the via Montenapoleone, roam through the shops in the corso Vittorio Emanuele or visit the Duomo; everything is possible together with your canine companion by your side. On the site letstraveldogether.com you can find a dog-friendly guide of Milan with some very good tips! Milan scored high because of the high number of dog parks (the highest number on the list!) and veterinarians situated in the city. Also, it only rains for an average of 83 days in this Italian city!
The latest dog-news from Milan: Milano's Pet Week was organized for the first time this year to celebrate the bond between humans and their furry best friends and facilitate their cohabitation. Activities during this week include a wellness for two, a six-legged marathon, and a treasure hunt. They plan on organizing this Pet Week yearly in Milan. Looks like I'll be skipping Milan's Fashion Week next year!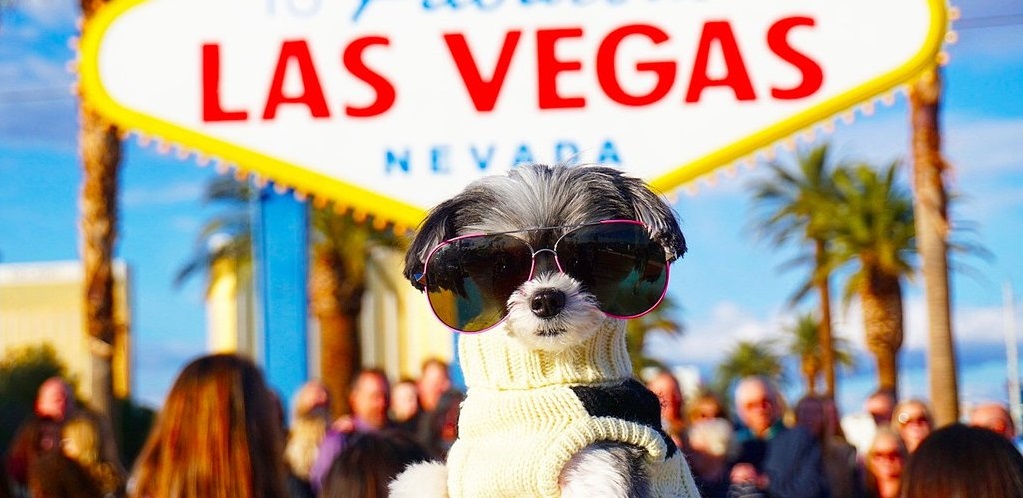 Photo source: Modern Dog Magazine
Vegas, baby! This extravagant city, well-known for its crazy casino's and heavy hangovers, is apparently also very suited to live in with your furry friend. Las Vegas scores points for the high number of dog-friendly restaurant and doggie daycares and the low number of rainy days per year! The latter is not so surprising for a city located in the desert… However, Las Vegas has very low number of dog parks which should definitely be improved in order to secure their third spot.
The latest dog-news from Las Vegas: Some hotels in Las Vegas, that are part of the Ceasars resorts, have a PetStay Program that is designed especially for dogs. Each PetStay hotel has a specially designated PetStay area in the hotel. Guests that participate in the program also get some in-room amenities like a mat, food, disposable waste bags and dog treats.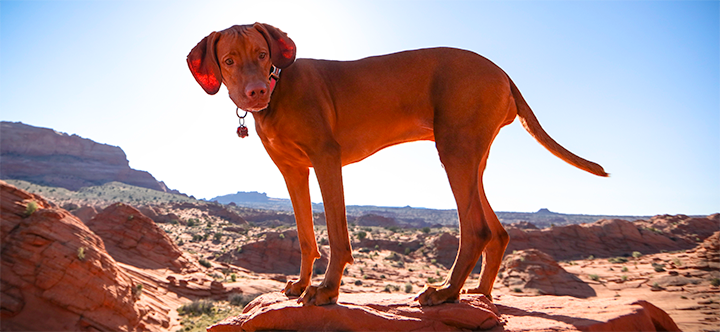 Photo source: Pima County Public Library
The third American city on the list! This city, located in the state of Arizona, has achieved a fourth place mostly because Tucson has a very high number of veterinarians per 10000 people. They also have a high number of doggie daycares and a low number of rainy days. Although they did not score particularly high on the number of dog parks, they do have one playground specially dedicated to dogs. The dog park is called Miko's Corner Playground and was named after a police dog who lost its life in the line of duty.
The latest dog-news from from Tucson: Tucson has got its own dog-magazine called the Tucson Dog with all the latest dog-news in het city. With the magazine they aim to promote the human/animal bond and raise awareness of shelter and rescue animals.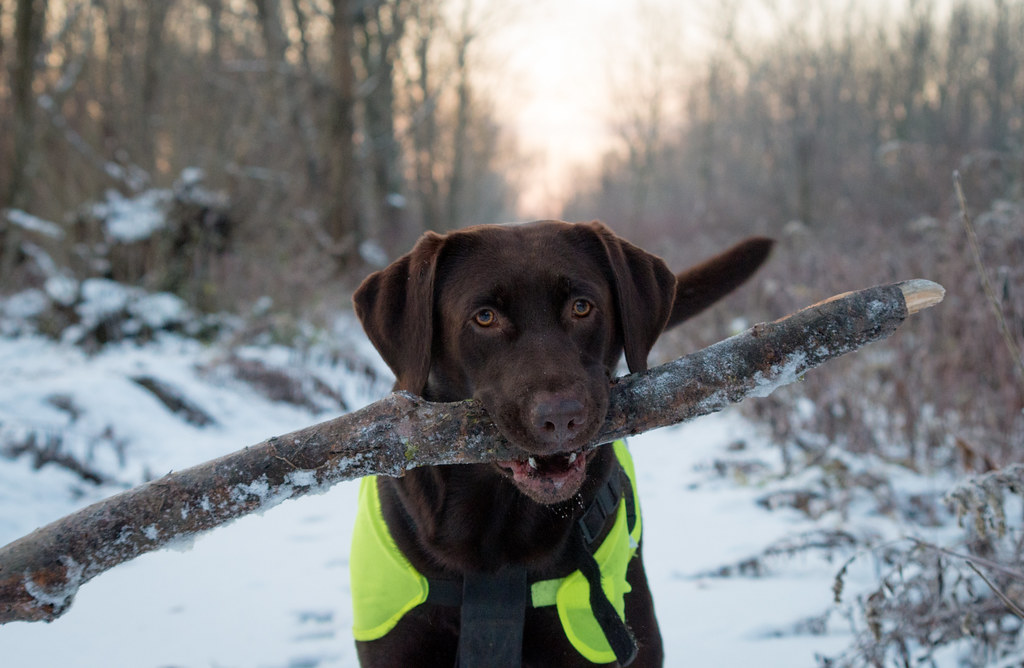 Photo source: Unsplash
Ach môj pes! The capital of Slovakia is number five on our 100-Best-Cities-to-Live-in-as-a-Dog-Owner-list! This city earned its place in the top 5 because it has got the highest score for dog-friendly restaurants. For this criterion, they stood far above the rest of the cities. They also scored high for the number of veterinarians but could score higher for the number of dog parks and doggie daycares to secure their fifth spot!
The latest dog-news from Bratislava: A tour guide in Bratislava organizes a 'Happy Dog Forest Hike' in which you can explore the city's forest with him and a dog of your choice from a dog shelter. Enjoying beautiful scenery and fresh forest air with a canine companion. Who is not tempted to have a bit of exercise while doing a good dog-deed!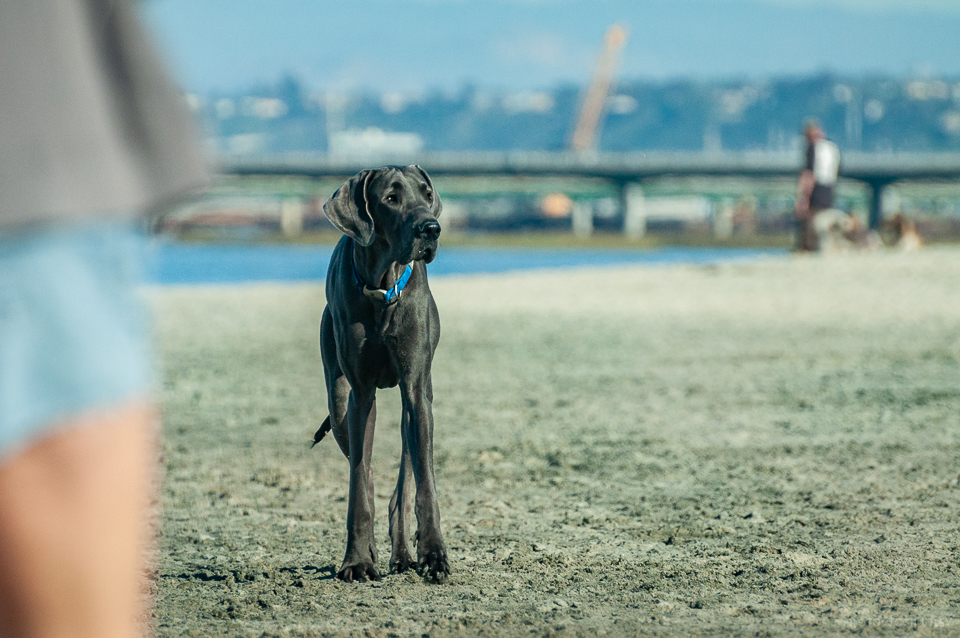 Photo source: Ocean Beach San Diego
San Diego, also known as 'America's Finest City', must be a dog's heaven with kilometers of white-sand beaches and the amazing weather. No surprise this sunny city reached number 6! San Diego obtained most points of course for their rainless days but also for the number of doggie daycares and most of all the the number of dog-friendly restaurants! Indeed, many dining spots have water and snacks for your four-legged friend. The city of San Diego also has a Humane Society which mainly promotes the adoption of shelter animals but also organize events, such like a weekly evening where people can go to cuddle with dogs.
The latest dog-news from: Inhabitants of San Diego apparently not only wine and dine with their furry friends, but they also work-out together! Doggie-and-me workouts, Dog Yoga, SUP Pups classes, and doggie kayaking… a lot of activities organized to keep you and your four-legged friend fit! [6]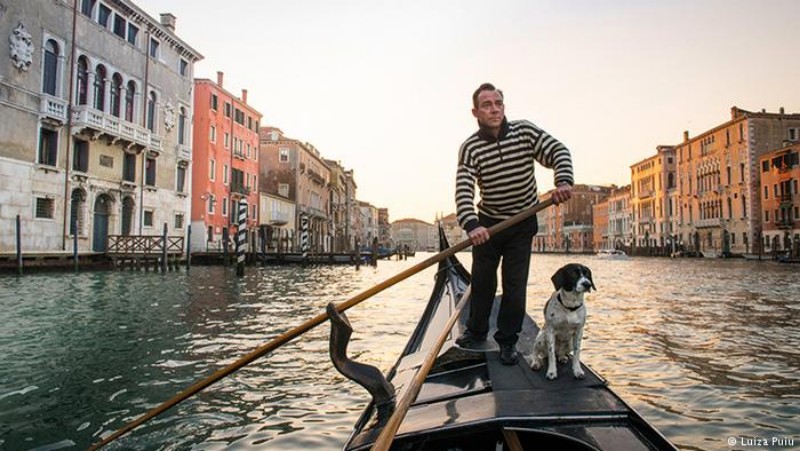 Photo source: book "Die Hunde Von Venedig"
The second Italian city in the top 10! Venice, well-known for its canals and gondola rides, achieved a seventh place. As cars are completely banned in the center of the city, it must be a dog's heaven! And apparently, it is, as many inhabitants believe that dogs are taking over the city. [7] They wander through the small alleys, ride along the gondolas and parade along the water. Venice scored the highest among all the cities on the number of veterinarians. The city also scored high for number of doggie daycares.
The latest dog-news from: An Austrian journalist became inspired by the many dogs walking around Venice, especially because their owners like to dress them up during the winter. Together with a Romanian photographer he created a photobook for which they photographed about 120 dogs in Venice. Move to this Italian city with your furry friend and who knows your dog will be scouted as a model!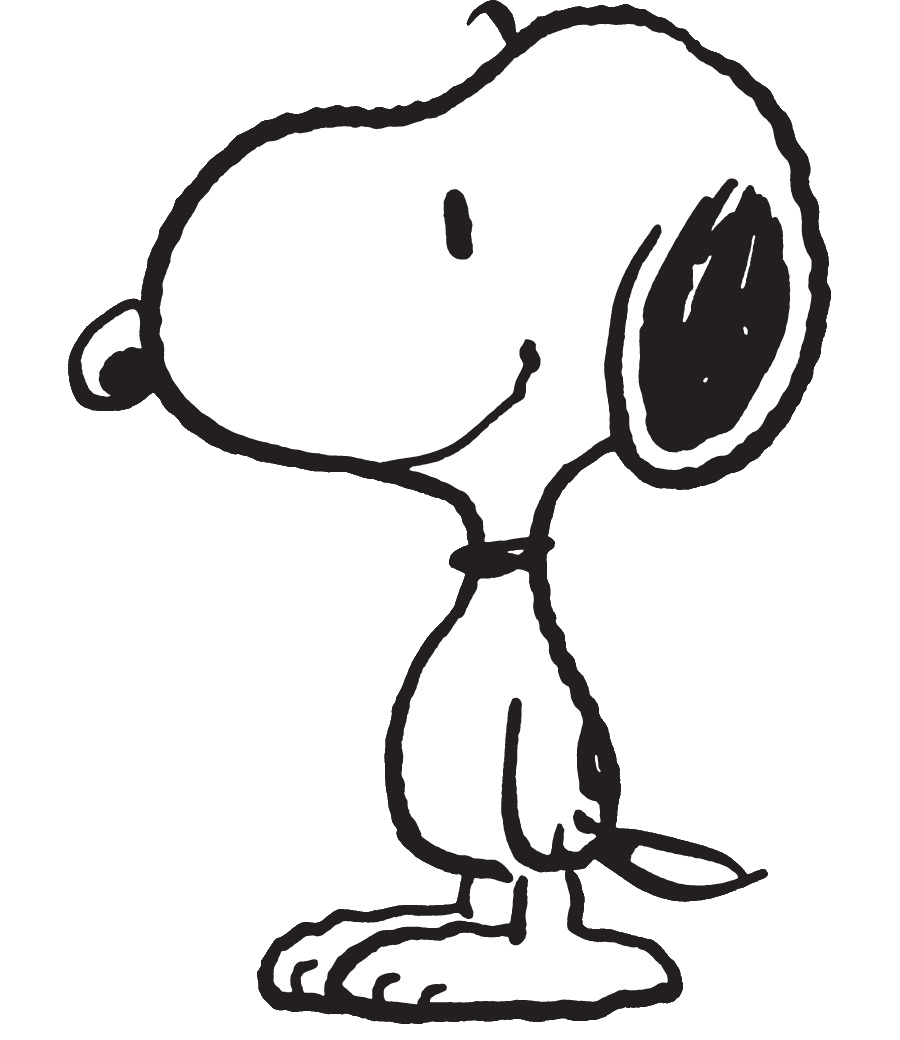 Photo source: Fandom
Minneapolis, the city where the famous dog-cartoon Snoopy was born. We all know Snoopy from the very popular comic Peanuts, right? Well, the creator, Charles M. Schulz, was born in Minneapolis and grew up in its twin St. Paul. [8] This city in Minnesota ranked 8th on the list, especially because Minneapolis has the second most doggie daycares per 10000 km. They also scored high for the number of dog parks, the number of dog-friendly restaurants and the number of veterinarians.
The latest dog-news from Minneapolis: The organization Sidewalk Dog together with Inbound BrewCo organized an event whereby they researched the breeds of five dogs. An elaborate report of the dog's breed mix was revealed to the owners and an audience. Some owners were very surprised by the results as some dogs appeared to be pure breed or a mix of five different breeds. Do you want to DNA-test your dog? Move to Minneapolis!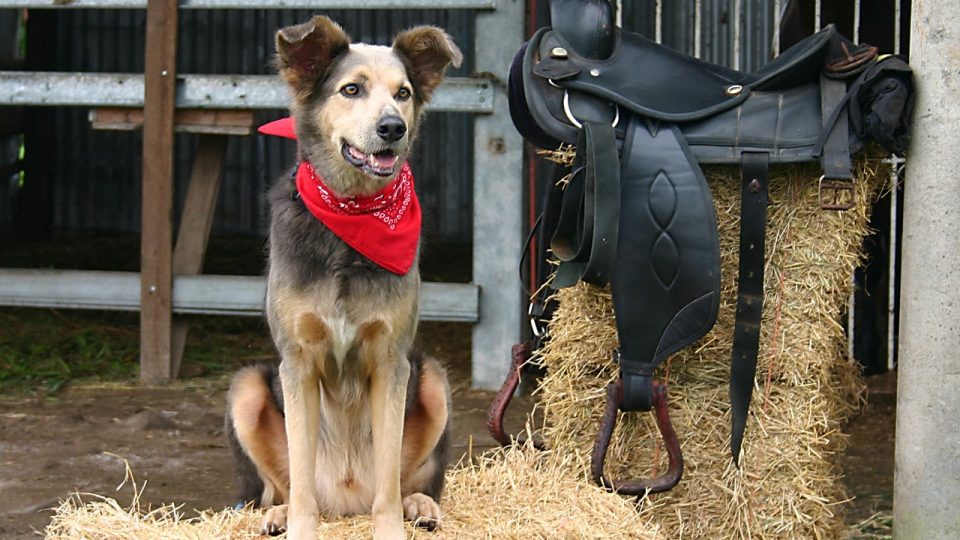 Photo source: Rover.com
Austin, the capital of Texas, obtained a 9th place on the list of 100 best cities to live in as a dog owner. The city is great for all kind of music-lovers, but apparently also for dog-lovers. Austin has got many dog-friendly restaurants and doggie daycares. They also scored moderately high on the number of veterinarians. So, if you love to live in the capital of live music, line-dancing, and rodeo, saddle up and move to Austin with your furry friend!
The latest dog-news from Austin: Divine Canine, an organization located in Austin that partners with its dogs to enhance the well-being of those in need, organizes a yearly Barks for Beers event. This event brings together dog- and beer-lovers to enjoy Austin's beer scene and meet the people behind Divine Canine. Would your dog be a good drinking buddy?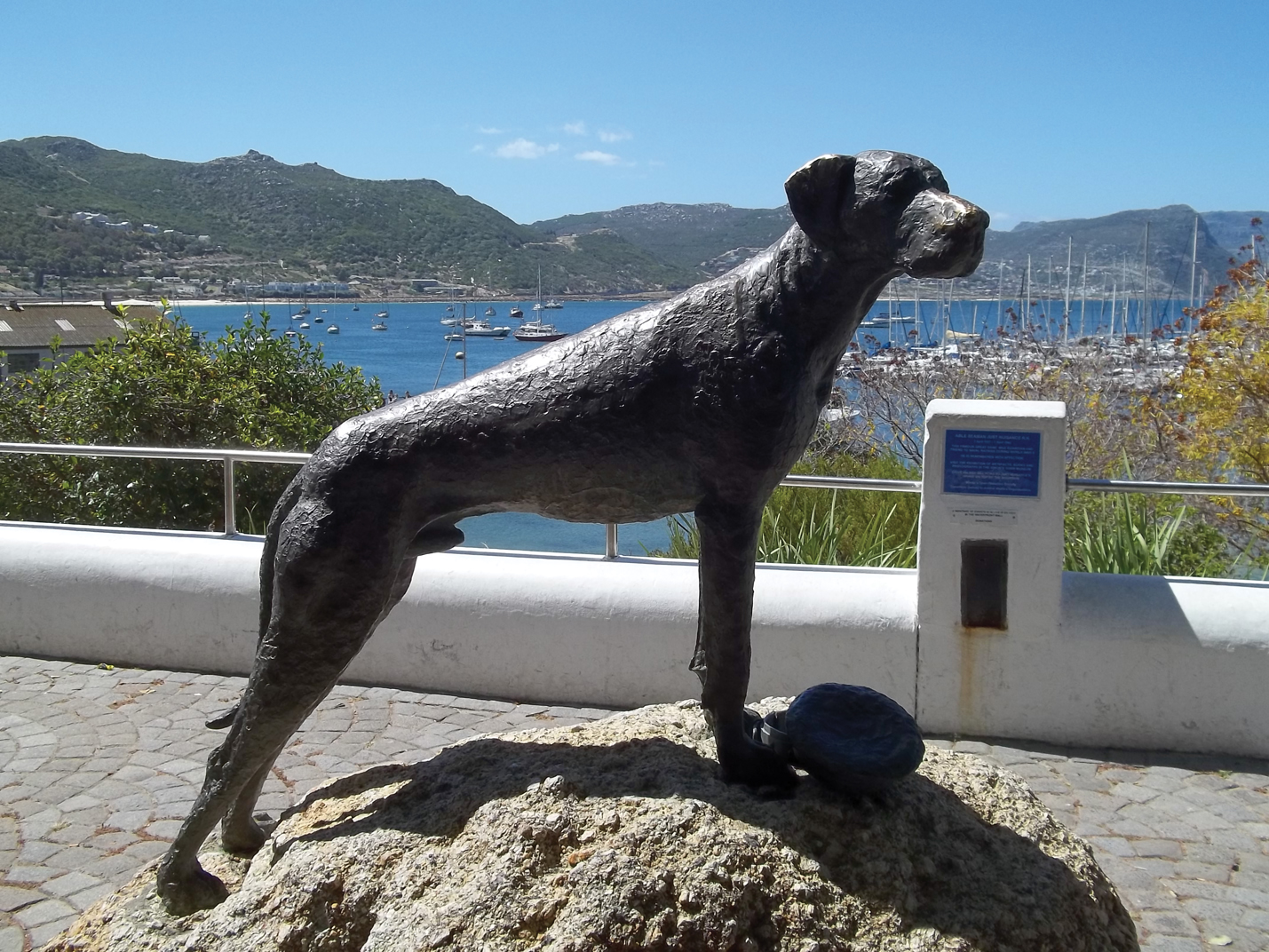 Photo source: Canine Chronicle
The number 10 of the 100 best cities to live in as a dog owner is Cape Town, also known as Kaapstad in the mother language Afrikaans. There are some stories of extraordinary dogs and one of them left his paw prints in Cape Town's history. The Great Dane, Able Seaman Just Nuisance, was born in Simon's Town and became the first and only canine member of the Royal Navy in Cape Town. [9] He was mostly adored because of his love and care for his sailor mates. Cape Town scored very high on the number of veterinarians, they had the most veterinarians per 10000 people after Venice, and also obtained points for the number of dog-friendly restaurants and doggie daycares.
The latest dog-news from Cape Town: The city of Cape Town has an organization called 'Dancing With Dogs' where they encourage dogs and their owners to dance together to celebrate their unique bond and foster this bond by learning new dance moves and tricks. Doggy Dancing in Cape Town, who is not tempted to try this out?
METHODOLOGY
Number of Pet Dogs per person | Weight: 1
The more dogs there live in a city, the more facilities and dog-friendly restaurants/hotels/parks there will be. That was our train of thought when we came up with this criterion. Unfortunately, the numbers were only available per country, not per city. Therefore, this criterion has a low weight score of only 1. The numbers were obtained through various statistical websites (see source list) and divided by the number of people living in that country to get the number of pet dogs per person.
Number of Dog Parks per sq km | Weight: 10
It is highly likely that your furry friend needs to stretch it paws a couple of times a day. Not only to stay happy and healthy, but also to, well… poop... Dog parks are special parks where dogs are allowed to walk, run or play off-leash. These parks were counted manually on Google Maps by typing in the words 'dog parks in city'. Included in the definition were dog park, dog beach and dog run. The area had to entail the word for 'dog' in its name and had to be situated within the city boundaries. To facilitate the search, for some cities the sentence 'dog parks in city' was translated to the country's language. The more dog parks per sq km, the higher the chances there will be one in your neighborhood. And the more dog parks in the neighborhood, the higher the chance that you will go outside one or two times extra to make your doggie happy. A happy dog is a happy owner.
Number of Dog-Friendly Restaurants per 10000 people | Weight: 8
A romantic night out with your partner would not be as romantic as it could be with your furry friend by your side. So, of course you bring your dog along to the restaurant. But will the restaurant allow your dog to enter? Not all restaurants do, therefore, we researched which cities have the most dog-friendly restaurants. A dog-friendly restaurant, in this research, was defined as one that allows your dog to enter. Some restaurant may be even more friendly by providing water or even food for your third wheel at the table, but that was not a must in this criterion. The number of restaurants was obtained through sites such as Yelp, BringFiddo and FourSquare (see source list).
Doggie Daycares per 10000 people | Weight: 6
When you've decided to enjoy your romantic dinner without your furry third wheel, leaving your dog home alone is of course very sad and kind of dangerous (for your tableware or cushions). A doggie daycare around the corner could be very useful in this situation. The number of doggie daycares in a city were counted through Yelp or Google Maps by searching for 'pet sitting', 'pet boarding' or 'dog daycare'. Sometimes these terms were translated in the country's language in order to obtain more search results.
Leash Obligation Score | Weight: 2
Most countries have a country-wide law forcing dog-owners to walk their dog on a leash in public places. So, a dog may only run freely on private property or in designated dog parks, dog runs or other areas. As this is an almost worldwide law, the weight score for this criterion is low. Our Leash Obligation Score was calculated as follows: 1, a city indeed has a leash obligation in public places; 3, yes but for certain dates only or only dogs above 5 kg; 4, yes but not when the dog has passed an obedience test; 7, yes but only for certain breeds or for dogs above 20 kg; 8, leash obligated only in designated areas; 10, no leash obligation.
Rain Index | Weight: 4
Who is going to walk their dog when rain is pouring outside? Let's be honest, no-one would enjoy this moment of quality time with their furry friend anymore. But, rain or not, your four-legged family member has to go out at least three times a day. Make sure to be the proud owner of a rain jacket, rainboots and a couple of umbrellas or make sure you live in a city where number of rainy days per year is very low. So, the rain index was calculated with the rule: when the number of rainy days is low, the index is high.
Veterinarians per 10000 people | Weight: 9
Everyone wants their doggie to be in good health but, just like humans, dogs can also become ill or get involved in a car accident. When that happens, you don't want to drive an hour before reaching an animal hospital in the outskirts of the city. No, you would want a veterinarian to be close by so that your dog can be taken care of instantly. A city thus needs a lot of veterinarians to be able to provide good care to all the furry friends in the city. Therefore, we manually counted the number of veterinarians and animal hospitals in every city via Google Maps.
Formula
Fx =((I3/(max(I$3:I$102)/100)*I$1) +(K3/(max(K$3:K$102)/100)*K$1) +(M3/(max(M$3:M$102)/100)*M$1) +(O3/(max(O$3:O$102)/100)*O$1) +(Q3/(max(Q$3:Q$102)/100)*Q$1) +(S3/(max(S$3:S$102)/100)*S$1) +(U3/(max(U$3:U$102)/100)*U$1)) /sum($1:$1)
FINAL THOUGHTS
The T100BCLDO was composed by the Dog Owner Team (DOT) at ScanMovers.com, a startup based in Amsterdam, operating a data-driven moving platform, allowing consumers to find the best moving deal, always.
Below you can find ALL the sources that provided us with data so that we could calculate the Dog Score per city and compose the T100BCLDO-list. We hope you enjoyed reading about dog-friendly cities as much as we enjoyed researching them.